High quality aluminium circle deep draw mainly hot-rolled substrates, with good grain size control, suitable for deep drawing use. The aluminium alloy of deep drawing aluminum circle discs are 1050, 1060, 1070, 1100 and 3003, which can cover most application. With the advantages of high surface finish, no scratches and high elongation, the aluminium circle product can be used for process deep pot, aluminum containers and so on.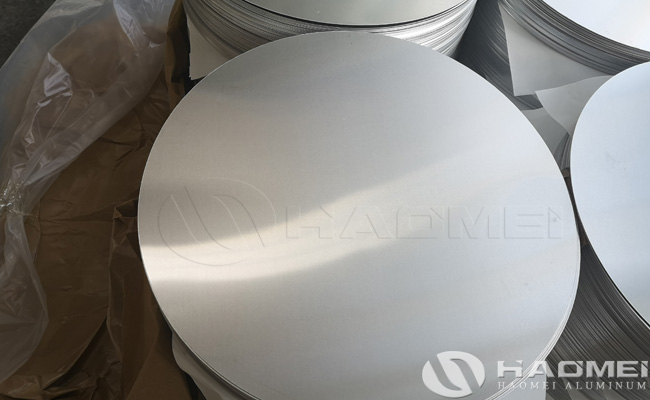 Haomei is a professional suppler of aluminium circle deep draw with over 15 years experience, the introduction of advanced aluminum circle production equipment effectively improves production efficiency and material utilization rate make the raw material utilization rate reach more than 80%. The aluminium circle product range is complete, and covers 1000, 3000 and 5000 series alloys. The deep drawing aluminum circle products are widely used in aluminum processing and manufacturing for cooking utensils, drawing aluminum disks for lamps, and aluminum for traffic signs Industries that require aluminum circles and aluminum discs, such as containers, aluminum cans and can heads.
To process high quality aluminium circle deep draw product, the alloy, state and performance of the coil are strictly controlled and tested to ensure the accuracy and diversity of the aluminum circles provided. The good control of the grain size and elongation of the aluminum coil ensures the excellent deep drawing and spinning performance can effectively avoid the undesirable phenomena such as wire drawing, lotus leaf edge and high ear-making rate that may appear during later processing.
For Price Plz Contact Whatsapp/Wechat: 0086 181 3788 9531
Or Email to nydia@aluminium24.eu