Aluminum (Al) is a silvery white, soft, ductile metal that is the third most abundant element (after oxygen and silicon) and makes up about 8% by weight of the Earth's crust. Aluminum is so chemically reactive that native specimens are rare. Instead, it is found combined in over 270 different minerals. The primary ore used in the production of aluminum metal is bauxite.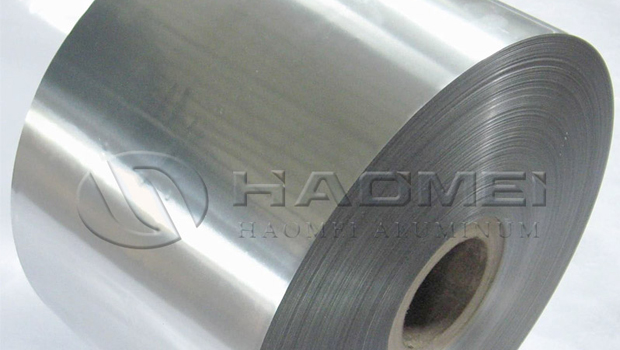 Aluminum is remarkable for its light weight, strength, durability and for its ability to resist corrosion, due to the formation of an extremely thin yet very strong layer of oxide film. Structural components made from aluminum and its alloys are vital to the aerospace industry, transportation, building construction, and many other industries and applications.
Aluminum foil is widely used in packaging, insulation, and electromagnetic shielding. Aluminum sheet is used to manufacture vehicle bodies, home appliances, siding, cookware, and in thousands of industrial applications where a strong, light, easily formed material is needed.
Application of thick aluminium foil sheet in different specifications
The thick aluminium foil sheet designed for the making of heat exchanger fins used in industrial applications (air-conditioning systems in houses, shopping malls, office buildings, transport – trains, buses, containers, etc.)
Foils in a range of thickness of 50 – 200 microns, alloys EN AW-8006, 8011, 8079, 3003, conditions H22, O or special OM, approximate width of 100 mm and more, winding up to 1,000 mm
Foils for households (kitchen foil)
Thin aluminium foil sheet for manufacturing of kitchen foil rolls
Foils in a range of thickness between 8 and 20 microns, width 280 mm and more, alloy 8011A, condition O
Foil for surface treatment
Thin aluminium foil sheet designed for further processing by lamination, printing, lacquering, embossing and other methods to produce packaging products for food-processing and technical applications
Thin foil thickness: 6.35 to 40 microns, alloys EN AW-8011A, 1200, 1235, 1050A, condition O or H19, maximum outer winding of 800 mm
Other foils
aluminium foil sheet for a variety of applications especially in food-processing, technical and building industries
Foil thickness ranging from 6.35 to 200 microns, alloys 8011A, 1200, 1235, 8006, 1050A, conditions O, H22, H19, external winding up to 800 mm