Pharmaceutical aluminum blister foil is also called cold-formed medicinal foil. It is mostly made of 8021-O aluminum foil. It is used for packaging medicines with strong air-tightness and moisture-proof shading. The thickness is 0.04-0.065mm.
  The Pharmaceutical aluminum blister foil is also called aluminum-plastic aluminum. The tropical type blister packaging is equivalent to adding a layer of cold stamping aluminum foil outer cover on the outside of thermoformed plastic blister and PTP aluminum foil. 8021-O pharmaceutical aluminum foil and 8079-O pharmaceutical aluminum foil are mostly used.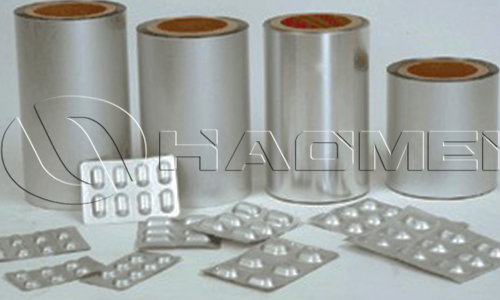 The blister aluminum foil can be printed with high precision, with rich colors and clear patterns. The plain foil can be printed online on the automatic drug blister packaging machine. It has good oxygen resistance and moisture resistance, and is sealed with the molding material to avoid light and preserve fragrance. The protective layer has excellent high temperature resistance, and the adhesive layer has good heat sealing performance. It can be heat-sealed with PVC, PVC/PVDC, NY/AL/PVC and other composite sheets with good sealing performance. The mill finish aluminum foil is used as the base material, which is easy to push or puncture, which is convenient for consumers to take. The packaged blister board is convenient to carry, convenient for transportation and storage and prevents pollution. It is suitable for high-speed automated production, and can provide products with a width of 50mm -700mm according to the user's packaging machine model. Pharmaceutical aluminum blister foil rolls are applied to tablets, capsules, effervescent tablets, pills, lozenges, shaped tablets, suppositories, ointments and other blister packs.