Color painted aluminum sheet coil is widely used in aluminum panels, aluminum veneer, aluminum honeycomb panels, aluminum ceilings, roof surface, scrap, cans, electronic products. Its performance is very stable and difficult to corrosion, surface after special treatment can reach 30 years of quality assurance, the weight per unit volume is the lightest metal material, coated aluminum, is the most popular of a new profile.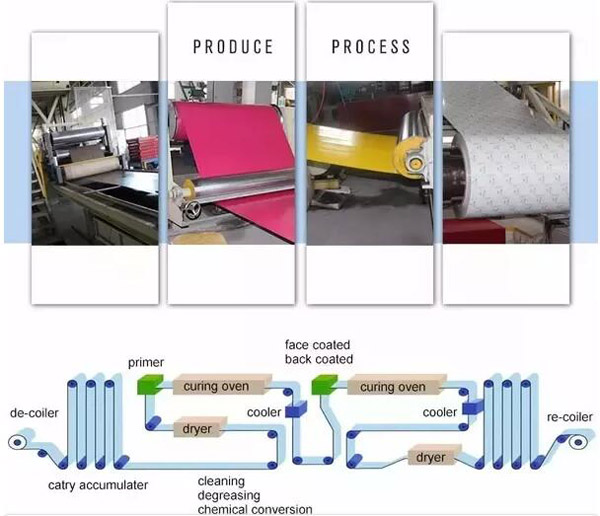 The coated aluminum coil is ideal for producing aluminum composite materials. And it's also good material for producing roofing tile and aluminum veneers. Painted aluminum coil can be used in exterior applications for decoration and protection of exterior wall, ceiling, bathroom, kitchen, etc.
Width: 50mm-1600mm
Aluminum Thickness: 0.018mm-1.0mm
Coating Thickness: 14-20micron
Coil Weight: 1.0-3.0tons per coil
Surface Treatment: PE Coated,PVDF Coated,Printing
Diameter: 150mm,405mm,505mm
Normal Colors: white,metallic,dark,gold series(accept color customized)
Package: In bulk, or wooden pallet with corrugated board and protection film/wooden box.
The production of color painted aluminum coil:
The color painted aluminum coil must receive color coated treatment.It is subjected to such processes as grease removal,cleaaning and passivation.After that,the coating line is requested.Based on the requirements of our clients,this painted aluminum coil can be coated with single color or distinct colors.
The features of color coated aluminum coil,color painted aluminum sheet:
Flatness:
High temperature composite surface without indentation. Board no residual stress, deformation after shearing.
Decorative:
Painted wood,  have realistic physical texture with fresh natural beauty. Random pattern and do, to the customer a wide range of personal choice, enrich the connotation of humanistic products, give people more enjoy the beauty.
Weather resistance:
Then coated, high-temperature baking paint patterns, and high gloss retention, good color stability, color change is minimal. Polyester paint warranty of 10 years, 20 years or more fluorocarbon warranty.
Mechanical properties:
High quality aluminum, plastics and adhesives, the use of advanced composite technology. Products with the desired decorative plate bending, bending strength, in the state of four seasons, change air pressure, temperature, humidity and other factors, will not cause bending, deformation, expansion or the like.
Environmental protection:
Salt tolerance of acid rain corrosion, corrosion does not itself produce live germs, does not release any toxic gases.