Aluminum coils are the most commonly used series in the conventional industry, with the 1000 series in all series being the one with the highest aluminum content. Aluminum purity can reach more than 99.00%. Because it does not contain other technical elements, so the aluminum coil production process is relatively simple, the aluminium coil price is relatively cheaper.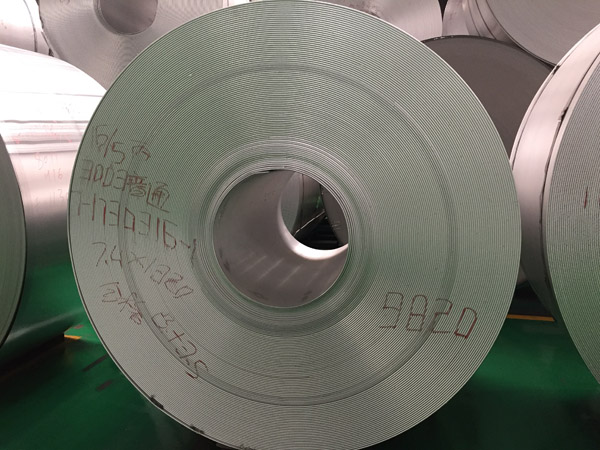 Most of the market circulation 1050 and 1060 aluminium coil. According to the last two digits to determine the minimum aluminum content of this series, such as 1050 aluminium coil last two digits of 50, according to the international nomenclature nomenclature, aluminum content of aluminum must reach more than 99.5% is qualified product. China's aluminum coil technical standards (GB/T3880-2006) also clearly stipulates that the aluminum content of 1050 reached 99.5%. The same reason 1060 series aluminum rod aluminum content must reach 99.6%.
At the same time, it keeps the benefits of being relatively lightly alloyed (compared to other series), such as high electrical conductivity, corrosion resistance, and workability. It can be strengthened by cold working, but not by heat treatment. HVAC, condenser, radiator, evaporator, heat shield, deep drawn applications, spinning, fan blades, nameplates and sheet metal work are typical applications.
1000 series aluminum sheet in coil Specification Alloy:1050,1050A,1060,1070,1100,1235,1145,1200,1350
Temper: HO,H14,H16,H18,H22,H24,H26
Thickness: from 0.2 mm to 6.0 mm
Width :600mm-2000mm
Material: DC(Direct Chill Cast) or CC(Continuous cast)
1000 series aluminum alloy Characteristics
1.High corrosion resistance
2.High thermal and electrical conductivity
3.Excellent workability and low mechanical properties
4.Mornally designated as non-heat treatable
1000 series aluminum alloy coils application
1.Widely used in making lighting lamp,baffe board,cooling fin,weld bond,heat exchanger,components,bottle caps,printing plate.
2.Used in construction and building material industry,like roofing panel,floor panel,celling wall,cladding wall,partition wall,shutters,window blind,road marking,street signs,road and highway protecting plate
3.As the mother coil for producing the color coated aluminum coil ,brushed aluminum coil,aluminum circle,aluminum profile and so on.