1100/3003/5005/5052/6061 aluminum foil material grade:
1100 aluminum foil – This low-strength alloy has excellent corrosion-resistance, has satisfactory anodizing and conversion coating finishing characteristics.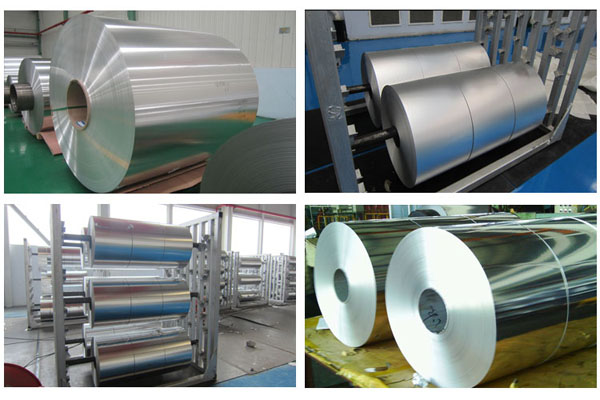 3003 aluminum foil – Excellent workability rating. May show some slight discoloration when anodized, but reacts well to mechanical and organic finishings. Is easily welded and brazed, but soldering is limited to the torch method.
5005 aluminum foil – Excellent corrosion-resistance and weldability, but would rate somewhat below 1100 and 3003 for brazing and soldering, and it is not the alloy one would choose for machinability. Typical end uses are decorative trim, utensils, mobile home siding and reflectors.
5052 aluminum foil -Excellent corrosion-resistance, particularly in marine applications,Fair machining with proper set-up. Typical end uses include fuel tanks, truck-trailer side panels, small boat hulls, truck cabs, bumpers, storage tanks and pressure vessels.
5083 aluminum foil – With excellent corrosion-resistance and weldability, together with high strength, this alloy was designed for welded structures requiring maximum joint strength and efficiency.
5086 aluminum foil – Has excellent corrosion-resistance and weldability. Can be anodized for increased corrosion-resistance,Typical end uses are marine craft, containers, railroad cars, structurals and elevator cars.
6061 aluminum foil – Very good corrosion-resistance and finishability plus excellent weldability and a strength level approximating that of mild steel, this is a popular general-purpose alloy.
6063 aluminum foil – A heat-treatable alloy developed exclusively for the extrusion industry and the most important alloy in the magnesium silicide group.