8011 industrial aluminum foil roll price is from $2600/mt to $3000/mt. The price relates a lot to the thickness, surface treatment and application of the foil.
  The thickness of of all aluminium foil rolls, including those of 8011, ranges between 0.006mm to 0.2mm. Generally speaking, the thinner the foil roll, the more expensive it is. For example, the price of household aluminum foil is higher than that of container aluminum foil, for the former is thinner. But there are exceptions, too. Aluminium foil for flexible packing, although of similar thickness to household foil rolls, is much more expensive, because it's made by extremely strict standards of pinhole and surface quality.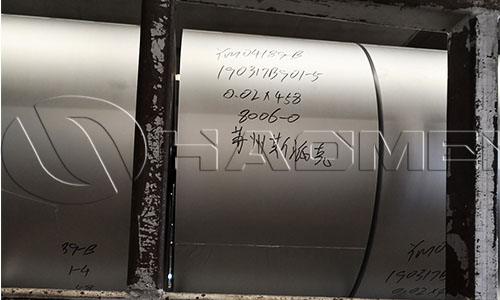 Surface treatment of the industrial 8011 aluminum foil includes mill finish, embossing, printing and color coating. Haomei supplies only the cheapest type: mill finish. The other types of foil, with extra processing steps, are more expensive and entail employment of machines of other fields.
  The application of 8011 industrial aluminum foil rolls usually corresponds to their applications. For example, the aluminum container foil must be thicker than the household jumbo rolls, and thus it's lower in price.
  If you a need specific 8011 industrial aluminum foil roll price, welcome to send details. Aluminium foil is not like computers or cell phones, in purchasing which you just need to name a model, and the price can be given. The quotations of aluminium products are based on each detailed manufacturing process you need.