Haomei is a food packaging aluminium foil company based in China, we supply food grade aluminium foil for packaging in bottle cap, the yogurt cover, to the food container material. Haomei produces environmentally-friendly food grade aluminium foil, mainly 3003 aluminum foil, 8011 aluminum foil, 8021 aluminum foil and 8079 aluminum foil. Aluminum foil packaging has outstanding advantages in gas barrier properties, moisture permeability, hygiene and safety, production efficiency, recyclability and environmental protection. Food grade aluminum foil packaging materials will be the development trend of green safety packaging.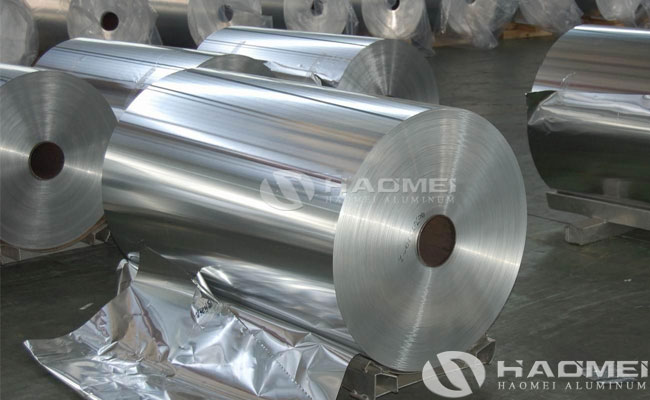 As a manufacturer of food packaging aluminium foil, Haomei Aluminum has produced a variety of food grade aluminum foils that have been tested by bacteria, mold and other heavy metals. The heavy metal does not exceed 0.2 million parts per million, strictly enforces industry standards and meets FDA standards of food packaging aluminum foil, which is not harmful to the human body. Haomei aluminum foil has go through strict pinhole detection, degreasing process and plate type control, it can achieve ultra-high sealing and perfect protection of the quality of the wrapped object.
As a famous brand food packaging aluminium foil company, Haomei has mature production technology, experienced workers and advanced production line. The food packaging aluminum foil supplied by Haomei have many advantages:
1, O-state annealing, reaching the brush A grade.
2, the production of food aluminum foil version is flat, no black oil spots, bright lines, small black silk, etc., no mosquitoes to join, safe and sanitary.
3, advanced equipment and instruments, to ensure the printing effect and mechanical properties of food packaging foil, improve product insulation performance and temperature resistance.
4, annealing heats up quickly, the effect is good.