The main application scope of the industrial aluminum foil falls on cooling fins of air conditioners. The main alloys of air conditioner foil are 1100, 1200, 8011, 3102 etc. The main chemical composition for air conditioner foil produced by hot rolling billet or cast rolling stock shall comply with the provisions of GB 3190-2008. But in the production, the actual control range of different manufacturers is different. The control range of chemical composition mainly considers the technical indicators such as tensile strength, elongation and cupping value of products to meet the requirements of users.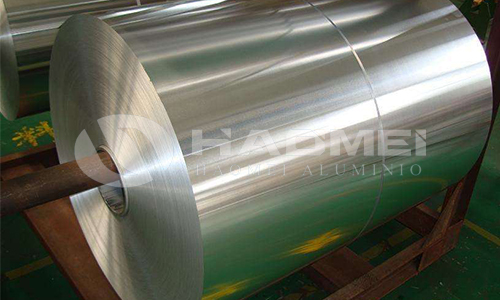 Surface quality requirements of aluminum foil for air conditioning
  The surface of aluminum foil should be flat and clean, and there are no defects such as corrosion, holes, folding, brown oil spots, slit, etc. 0 state aluminum foil, surface brush water test should not be lower than grade B.
  Thickness of aluminum foil for air conditioner
  At present, the thickness of air-conditioning aluminum box is generally 0.10-0.12mm, and there is a trend of thinning to 0.090 mm.
  Requirements for tensile strength, elongation and cupping value of aluminum joint in air conditioner
  There are generally two forming methods for the heat sink fins of air conditioner: one is the drawing forming method, which requires the air conditioner foil with large deep drawing capacity. Due to the low tensile strength, the thickness of aluminum box is relatively thick, generally more than 0.11mm; The other is the thinning drawing method, which has a faster forming speed and a thickness of less than 0.11 mm, which requires not only a certain plasticity but also a high strength of aluminum foil. In other words, different forming methods have different performance requirements for air-conditioning aluminum foil. According to the market demand for air-conditioning aluminium foil, it is required to meet the forming process of stretch forming and stretch thinning forming at the same time. It is generally hoped to obtain H22 aluminum foil for air conditioning. The tensile strength is 120-130mpa, the elongation is more than 18%, and the cupping value is more than 6mm.