In the past paragraph, we have introduced the aluminum and the feature of it, and there are many special series of the aluminum sheet, and today we will introduce one of them- high precision embossed aluminum sheet, which is also widely used in the industry and the decoration.
The alloys such as the 1050, 1100, 3003, 3004, 3005, 3105, 5005 and 5052 can all be made into the high precision embossed aluminum sheet, the width of it is usually 35 mm-2200 mm, and the thickness is 1.0 mm – 7.0 mm. Embossed aluminum sheet can widely used in many places such as the floor of airplane, light rail and vehicles, platform, suspension beam, ladders, stairs, elevator and PCB material, etc. Besides, embossed aluminium sheet is also mainly used in construction, decoration, labels, PP caps, household appliance, lift, cover material, air conditioner, automobile etc. Comparing the ordinary aluminum sheet, the high precision embossed aluminum sheet has many advantageous features, and they are as follows: it has a high weather resistance, and it is anti-scratch and anti-corrosion, what's more, the processing installation is easy and the appearance of it is bright.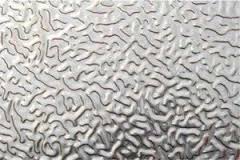 Haomei Industrial Co.,Ltd is the professional aluminum sheet manufacturer in China, and it has almost 30 years experience in this field, the high precision embossed aluminum sheet manufactured by the company is of high quality and it has been sold all over the world, gaining a world appraises from the clients.