Aluminum strip for injection vial seals grade 3105 and 8011 0.02-4mm thick has high quality and great performance. For a long time, medical injection vial bottles have been sealed with aluminum caps or aluminum-plastic composite caps and rubber plugs through capping and closing processes. Aluminum caps for injection bottles are mainly used for injection bottles and vials of different specifications, as the outer sealing aluminum caps. Its function is to use the stability of its metal chemical properties to protect the quality and safety of drugs in the bottle. The quality of aluminum strip for injection bottles caps not only affects the quality of medicines, but also affects the convenience and safety of medicines used by medical staff.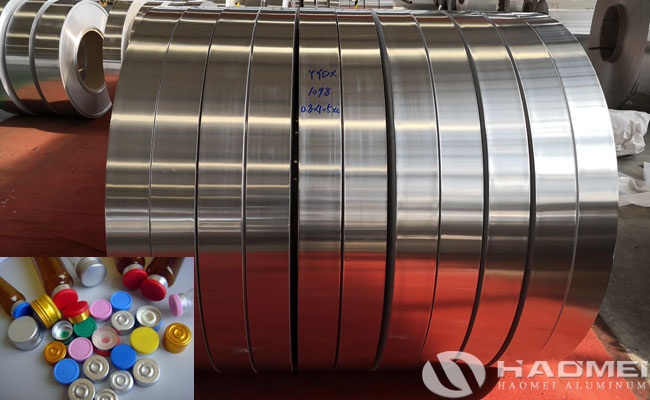 The quality standard of aluminum strip for injection vial seals is expressed as the mechanical properties of aluminum strips, opening force, sterilization resistance, compatibility, coating firmness, bridge breaking force, full opening force and other indicators. The tensile strength of the aluminum strip cap material for the injection bottle should be 130-180N/mm2, and the elongation should not be less than 2.0%. Aluminum strip for caps has the advantages of smooth and bright surface, stable mechanical properties, precise dimensional tolerance, easy stamping and forming, low ear-making rate after stamping into bottle caps, and good anodizing effect. Thus, aluminum strip 3105 and 8011 are suitable for manufacturing injection vial bottle caps.
Aluminum bottle caps are thin and easy to open. They are widely used in pharmaceutical oral liquids. Aluminum strip for injection vial seals also exert their unique advantages in the sealing of bottled liquids such as antibiotics and infusions. At the same time, the aluminum injection vial caps has a simple structure, low cost, good airtightness and convenient use. The aluminum injection vial seals caps has many advantages, such as stable torsion, which can reduce the opening time, strong tension resistance and corrosion resistance, and these are the reasons why the aluminum strip caps is widely used.
For Price Plz Contact Whatsapp/Wechat: 0086 181 3788 9531
Or Email to nydia@aluminium24.eu