Haomei supply supply aluminium strip 1060, 1070, 3003, 3104 and 8011 for applied in transformer, cable, pp caps, lamp base and so on. Aluminium strip is an aluminum deep-processed product formed by aluminum coil slitting and is an important raw material in industry. Using aluminum alloy instead of steel materials can reduce the structural weight by more than 50%. It is widely used in machinery manufacturing, transportation machinery, power machinery and aviation industry. The fuselage, skin, compressor, etc. of aircraft are often made of aluminum alloy to reduce self-weight. Aluminum alloy has low density but relatively high strength, which is close to or exceeds that of high-quality steel. It has good plasticity and can be processed into various profiles. It has excellent electrical conductivity, thermal conductivity and corrosion resistance. It is widely used in industry and its usage is second only to steel.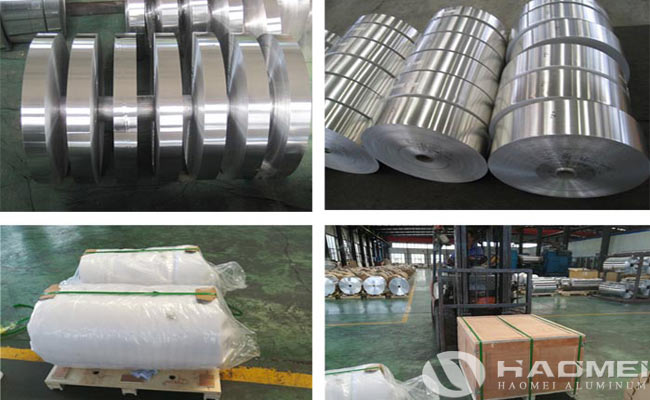 As an manufacturer who supply aluminium strip, Haomei Aluminum pay attention to the three major issues in aluminum strip slitting processing:
1, Width, the current aluminum strip slitting machine can control the width tolerance between 0.05-0.1mm, so the slitting unit must be set by the operator and can only start production after correction, and the problem of large dimensional deviation cannot occur.
2, Because the aluminum strip is soft, avoid bumping during packaging and moving. The bumped aluminum strip will form pits on the surface, which directly affects the use.
3. The burr on the edge of the supply aluminum strip is mainly caused by the cutting tool. If the burr on the edge of the crawler is found to be serious, stop production immediately and find the cause.
For Price Plz Contact Whatsapp/Wechat: 0086 181 3788 9531
Or Email to nydia@aluminium24.eu