Haomei is an industry leading aluminum tread plate exporter from China, the alloy are 1060, 3003, 5052, 5083 and 5086 with thickness of 0.8-10mm. The surface treatment are mill finish and bright finish. The tempers are H12, H14, H16, H18, H22, H24, H114 and so on. Because of the wide range of uses, the aluminum tread plate is very large in use. Like common seen five bars aluminum trad plate, three bars aluminum checkered plate, diamond aluminum tread plate, etc., Aluminum trad plate is often used in workshop floor, building decoration,home appliances, truck compartments and shipbuilding.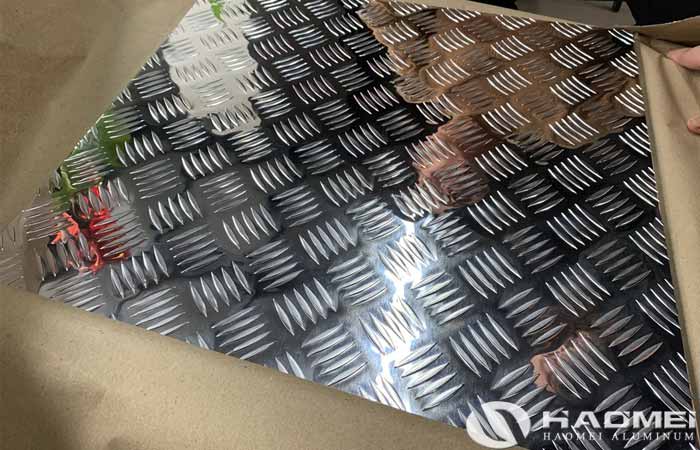 The following points can be used as a reference for our selection of aluminum tread plate exporter:
First, it must comply with national standards.
The thickness, strength, oxide film thickness of the selected high-quality aluminum tread plate should be in line with national standards, can refer to the national standard of aluminum and aluminum alloy tread plates (GB/T 3618-2006), suitable for aluminum and aluminum alloy tread plates Uniform standard. If it does not meet the standard, it is a poor quality aluminum tread plate.
Second, look at the surface of the aluminum tread plate.
The quality of aluminum tread plate is different because of the different materials. We can see through the surface, the high-quality aluminum tread plate surface is bright, the pattern is clear and tidy, the plate is flat, and the surface is free from oil, scratches and broken defects. The inferior aluminum tread plate is mostly made of waste aluminum. The finished product has a dull surface, the pattern is not clear, the pattern is not smooth, the board surface is not flat, and the performance is not up to standard. We can recognize it from the appearance. When we are selecting aluminum tread plate exporter, we can make decision from these two aspects.
For Price Plz Contact Whatsapp/Wechat: 0086 181 3788 9531
Or Email to nydia@aluminium24.eu