Haomei is a China aluminum tread plant factory with decades years experience, the production output is 2000 Tons per month. As an aluminum tread plant supplier, the manufacturing process is not simple. First of all, it is not very simple to make regular patterns on the surface of plain aluminum plate, which means that there is more than one process in the processing process, which not only increases the investment of mechanical equipment, but also consumes the spirit of more people, and the cost is greatly increased. And the aluminum tread plate price is higher than that of aluminum plate product.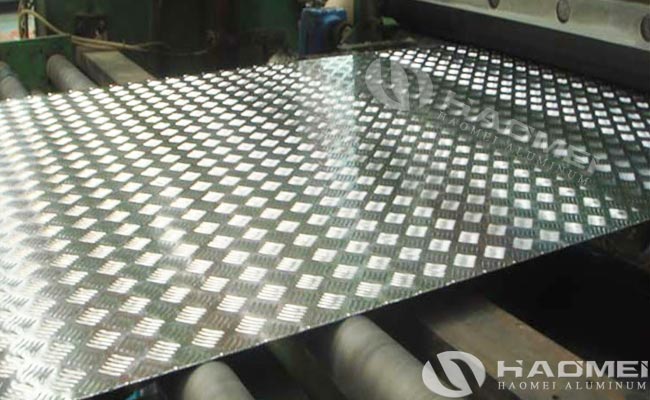 Secondly, the appearance of the pattern not only plays a decorative role, but more importantly, it supports the anti-skid effect for special purposes, such as the clearer the texture, the stronger the anti-skid and grip.
Thirdly, there are many types of aluminum tread plate that can be used in different industries. First of all, ordinary aluminum alloy plates are made of ordinary 1060 aluminum plates as raw materials, and the processing cost is relatively low. It is suitable for vehicle floor under normal conditions; Second, aluminum-manganese alloy plates, with aluminum-manganese alloy 3003 as the main raw materials processing, have a certain strength and impact resistance, have a certain degree of rust and corrosion resistance, mainly used in train cars; third, aluminum-magnesium alloy plate, aluminum tread plate factory use 5052 or higher grade aluminum to processing, it has high strength and hardness, strong anti-rust and corrosion resistance, and can be used in ships and even aerospace industry.
For Price Plz Contact Whatsapp/Wechat: 0086 181 3788 9531
Or Email to nydia@aluminium24.eu