Haomei Aluminum is a large modern aluminum processing enterprise that integrates processing, manufacturing, and scientific research of aluminum coil/discs, aluminum sheet, aluminum circle, aluminum plate, aluminum strip, aluminum slug, aluminum foil etc. It primarily engaged in the producing and selling. The company consistes of two main production bases, one is located in Gongyi City and Xin'an Industrial Assemble Region,Luoyang, Henan Province, with an area of 30,000 square meters.
Haomei Al. has over 1000 employees, 10 continuous casting production lines and more than 20 other large-scale processing equipments with an annual production of 200,000 tons.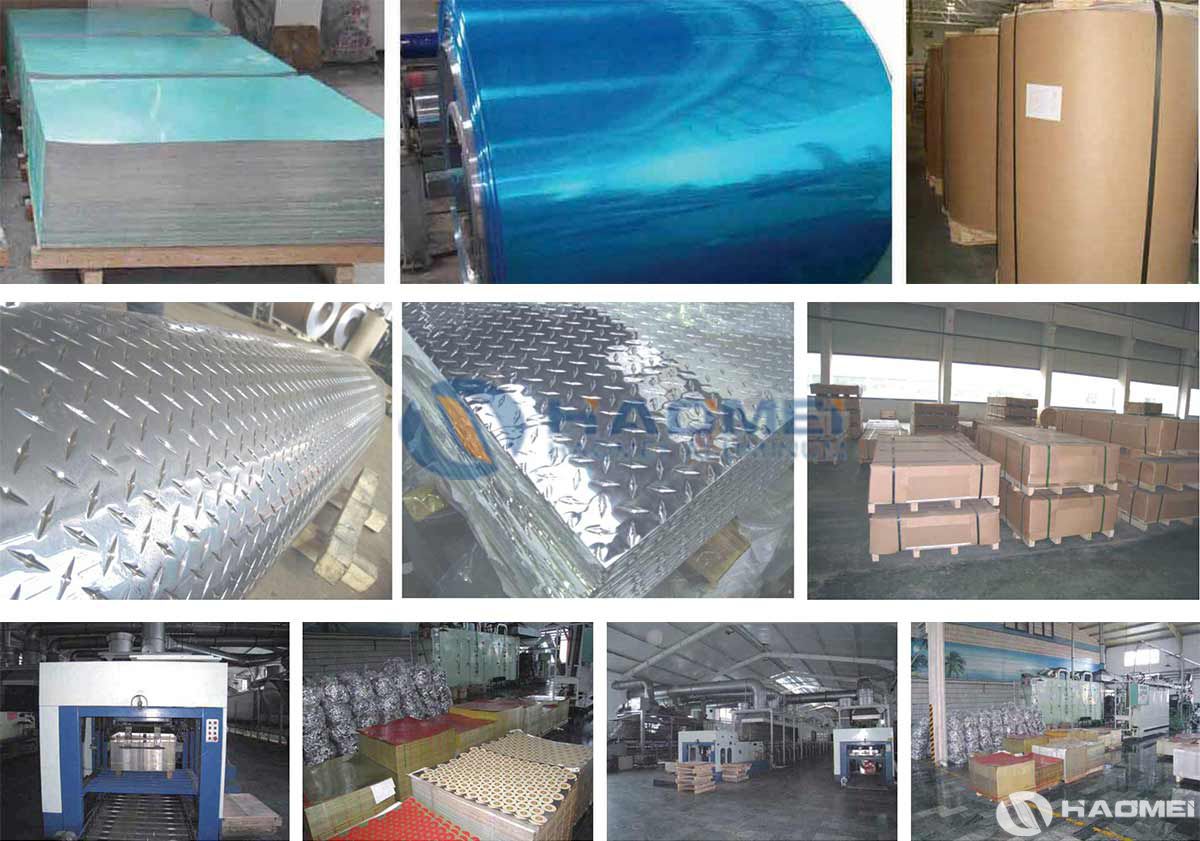 Scope of Service
Presently, the company's products cover aluminum alloy products of Series 1xxx, Series 3xxx, Series 4xxx, Series 5xxx, Series 6xxx, Series 7xxx, Series 8xxx of different sizes. Main products include aluminum coil, aluminum sheet, aluminum circle, aluminum plate, aluminum tread plate, aluminum foil, aluminum slug, aluminum profile etc. Those products are widely applied in industries including automobile making, traffic and transportation, packaging and containers, buildings and decorations, electrical and electronic, printing, etc.
Global Market
By virtue of good product quality and perfect overseas services, HM Al. has obtained stable market sharing in United State, Brazil, Chile, Mexico and South Korea after a long-term strategic planning. We strived to obtain more international markets and our products are sold worldwide, such as South America, Europe, Southeast Asia, and the Middle East, etc. The share of foreign trade grows rapidly.
A Powerful and Listed Company
HM Aluminum has more than 20 years experience on aluminum coil and other aluminum products. With the hard working of HM staff, HM Aluminum keeping ahead in scale and market shares in the industry.
Honors and Awards
Our maximum praise comes from the satisfaction of clients. For many years, the company was granted numerous honors in R&D and production. The company has obtained "Engineering and Technological Research Center for Aluminum Plate Strips and Foils in Henan", "Top 20 Nonferrous Metals Enterprises in Henan", Top 10 Processing Company for Aluminum in China", and "Outstanding Private Enterprise", etc.
Haomei Aluminium integrating extrusion, forging, and sheet/plate and orientating at high-end metal processing industry..Products cover applications on the high-end market: aviation, marine, nuclear power, rail transit, automobile and container etc.Haomei aluminium is the premier source of high quality aircraft aluminum sheeting. World Renowned Aircraft Aluminum sheet supplier.
EXTRUSION PROJECT
150MN extrusion plant for hard alloys is the largest one in aluminum extrusion industry worldwide, covering 100,000m² with width 114m, length 718m and height 30m.
This plant introduced 150 MN direct and indirect extrusion press from SMS Germany, which is the largest globally, with extrusion force up to 150 MN and capability to produce extrusion with max. section of 0.45m², the biggest worldwide. This Plant also is equipped with a full set of inspection equipment for aerospace products with total annual productivity of 15 ,000t.
PRODUCT ORIENTATION
EXTRUSION PROJECT
"The extrusion line is capable of producing large extrusions of 2xxx, 4xxx, 5xxx, 6xxx, and 7xxx, which are widely used in civil aviation, transportation, machinery manufacture, energy and chemical industry and so on. Direct mode is mainly used to produce soft alloys for high speed rail and marine manufacture, etc. while indirect mode mainly produces hard alloys for civil aviation. "
"Equipment configuration: this extrusion line includes advanced equipment: 150MN direct and indirect press, extrusion auto production line auxiliary equipment, induction heating furnace, die furnace, 30m vertical quenching furnace, 40m horizontal quenching furnace, 2,000t stretcher, 40m aging furnace, finishing and de-twisting device, ultrasonic inspection equipment, etc. "
Main extrusion products are high speed rail body, aircraft seat extrusions, etc
SHEET/PLATE PROJECT
Aluminium Sheet/Plate Project occupies an area about 1,200,000㎡, with building 500,000 ㎡, including 4 subprojects: casting, hot rolling, plate and sheet, with total designed capacity is 350,000t.
There are totally two stages, formal production of stage one was started from 2015 (total productivity 200,000t: 50,000t plates and 150,000t sheets) and stage two starts production from 2018(expended to 350,000t: 100,000t plates and 250,000t sheets).
PRODUCT ORIENTATION
ALUMINUM SHEET/PLATE PROJECT
This project focuses on high-technology and high value-added aluminum alloy product of 2xxx, 4xxx, 5xxx, 6xxx, 7xxx , mainly plate and sheet/strip
aluminum Plate dimension: thickness 6-305mm, width1000-3800mm, length 27,000mm (max). The products cover aviation, marine, rail transit, tool and die, container etc
aluminum Sheet/strip dimension: thickness 0.2-6mm, width 2650mm (max), covering aviation, automobile, marine and can making etc.
Main products produced in Plate Plant:5083-O/H112/H116/H321 marine plate and LNG plate;6061-T651/T6、2024-T351、7075-T651 tool and die plate; 7N01rail transit etc.;5757、5182、6016、5052 automobile sheet; researched& developed product:2024HDT、7050-T7451 aviation material, 2024/2524-T3 aero al-clad sheet etc.
FORGING PROJECT
This project is capable of running production and R&D on aluminum alloy, titanium alloy and super-alloy forgings. Annual production capacity is about 20,000t.
The company is capable to produce forging products of high technical content and added value, including Aluminum alloys of 2xxx,4xxx,5xxx,6xxx and 7xxx as well as titanium, super alloy and high-strength structural steel and so on. The products cover high-end field: aviation, vessel, petroleum and petrochemical, rails transit, energy industries and maritime engineering etc.
Aircraft structural parts
Engine mounting forgings
Engine mounting part
Engine fan blisk
TEST LAB
AMZ lab is capable of testing following properties, such as mechanical property, fracture toughness, inter-granular corrosion, exfoliation corrosion, fatigue test and organization analysis(microscope, scanning electron microscope, TEM, electronic probe) and so on. This lab has been approved by CNAS 17025 Lab.