Stucco embossed aluminum sheet manufacturer China Haomei has rich experience on stucco embossed aluminium product processing for more than 15 years. The stucco embossed aluminum sheet has grades of 1000 series, 3000 series and 5000 series. The stucco embossed aluminum sheet products are mainly used in refrigerators, freezer liners, light industry, chemical machines and other industries. When used to produce refrigeration equipment, for example, freezers, refrigerators, air conditioners, etc.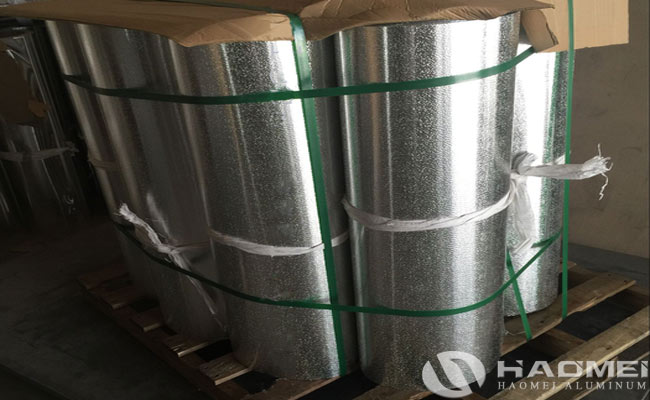 Orange peel stucco embossed aluminum sheet is the common seen pattern, many freezers are covered with orange peel embossed aluminum sheets. In addition to refrigeration equipment, orange peel stucco embossed aluminum sheet are also very common in the field of product packaging. Advantages of orange peel aluminum sheet various aluminum plates and aluminum coil products within 1300mm width. Embossed deep can better guarantee the surface area. Ensure the consistency of stucco embossed aluminum texture and product stability.
The orange peel aluminum sheet was first used in the refrigeration industry. The internal insulation layer of refrigerators and freezers are all orange peel aluminum sheets. The advantage of the stucco embossed orange peel is that the surface area is increased after pressing, which is beneficial to temperature transfer. Evaporators and central air conditioning systems are also widely used. Judging from the current stage, orange peel aluminum products supplied by stucco embossed aluminum sheet manufacturer are mainly used in the insulation industry, such as chemical industry, chemical pipeline tanks and various external insulation of pipelines. The use of this product as an outer protective layer in equipment is increasing.
For Price Plz Contact Whatsapp/Wechat: 0086 181 3788 9531
Or Email to nydia@aluminium24.eu