6061 is a precipitation-hardened aluminium alloy, containing magnesium and silicon as its major alloying elements. Originally called "Alloy 61S",  It has good mechanical properties, exhibits good weldability, and is very commonly extruded (second in popularity only to 6063). It is one of the most common alloys of aluminium for general-purpose use.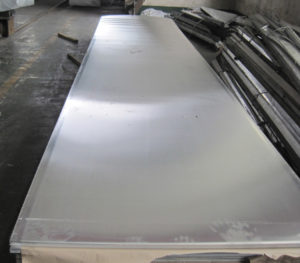 6061 has a density of 2.70 g/cm³ (0.0975 lb/in³).
Aluminum alloy 7075 is an aluminum alloy, with zinc as the primary alloying element. It is strong, with a strength comparable to many steels, and has good fatigue strength and average machinability. It has lower resistance to corrosion than many other Al alloys, but has significantly better corrosion resistance than the 2000 alloys. Its relatively high cost limits its use to applications where cheaper alloys are not suitable.
7075 aluminum alloy's composition roughly includes 5.6–6.1% zinc, 2.1–2.5% magnesium, 1.2–1.6% copper, and less than a half percent of silicon, iron, manganese, titanium, chromium, and other metals. It is produced in many tempers, some of which are 7075-0, 7075-T6, 7075-T651.
6061 – Mechanical Properties 
Ultimate Tensile Strength 45000 psi
Tensile Yield Strength 40000 psi
Fatigue Strength 14000 psi
Shear Strength 30000 psi
Hardness, Rockwell 40
Machinability 50%
7075 – Mechanical Properties 
Ultimate Tensile Strength 83000 psi
Tensile Yield Strength 73000 psi
Fatigue Strength 23000 psi
Shear Strength 48000 psi
Hardness, Rockwell 53.5
Machinability 70%
For instance, 6061 aluminum alloy contains less zinc than its 7075 counterpart, meaning that while 6061 alloys provide superior welding abilities and workability over other alloys, it doesn't boast the same high strength and stress resistance as 7075 offers