6061 is a precipitation-hardened aluminium alloy, containing magnesium and silicon as its major alloying elements. Originally called "Alloy 61S", it was developed in 1935. It has good mechanical properties and exhibits good weldability. It is one of the most common alloys of aluminium for general-purpose use.
It is commonly available in pre-tempered grades such as 6061-O (annealed), tempered grades such as 6061-T6 (solutionized and artificially aged) and 6061-T651 (solutionized, stress-relieved stretched and artificially aged).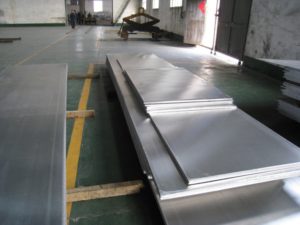 6061 alloy is the accepted alloy for structural shapes and in the (-T6) condition the strength is approximately equal to that of structural steel. It combines high strength, good workability, weldability, and corrosion resistance, making it popular for a wide variety of uses. 6061 angles and channels have an inside radius for strength.
APPLICATIONS
Used for general structural purposes. 6061 most widely used for scaffolding, ship construction, transmission towers, truck trailers, machine parts, and furniture applications. 6063 is used extensively for architectural molding and trim, furniture, window and door construction, etc.
MACHINEABILITY AND WELDABILITY
6061 in the T4 condition has a machinability rating of 90% when compared to 2011 at 100%. Machines to a high finish.
Machines to a high finish.