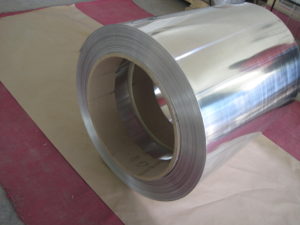 The emper Designation System for  Aluminium Alloy strips  follows the cast or wrought designation number with a dash, a letter, and potentially a one to three digit number, e.g. 6061-T6. The definitions for the tempers are:
-F
As fabricated
-H
Strain hardened (cold worked) with or without thermal treatment
-H1
Strain hardened without thermal treatment
-H2
Strain hardened and partially annealed
-H3
Strain hardened and stabilized by low temperature heating
Second digit
A second digit denotes the degree of hardness
-HX2 = 1/4 hard
-HX4 = 1/2 hard
-HX6 = 3/4 hard
-HX8 = full hard
-HX9 = extra hard
-O
Full soft (annealed)
-T
Heat treated to produce stable tempers
-T1
Cooled from hot working and naturally aged (at room temperature)
-T2
Cooled from hot working, cold-worked, and naturally aged
-T3
Solution heat treated and cold worked
-T4
Solution heat treated and naturally aged
-T5
Cooled from hot working and artificially aged (at elevated temperature)
-T51
Stress relieved by stretching
-T510
No further straightening after stretching
-T511
Minor straightening after stretching
-T52
Stress relieved by thermal treatment
-T6
Solution heat treated and artificially aged
-T7
Solution heat treated and stabilized
-T8
Solution heat treated, cold worked, and artificially aged
-T9
Solution heat treated, artificially aged, and cold worked
-T10
Cooled from hot working, cold-worked, and artificially aged
-W
Solution heat treated only
Note: -W is a relatively soft intermediary designation that applies after heat treat and before aging is completed. The -W condition can be extended at extremely low temperatures but not indefinitely and depending on the material will typically last no longer than 15 minutes at ambient temperatures.