Haomei Aluminum is a large-scale aluminum foil manufacturer in China who offer good aluminium foil roll price. Haomei Aluminum can produce 8011 aluminum foil, 3003 aluminum foil, 1235 aluminum foil, 8079 aluminum foil, 8021 aluminum foil, 1060 aluminum foil, 1070 aluminum foil and 1100 aluminum foil, aluminum foil for adhesive tape, aluminum foil for medicine packaging, aluminum foil for food, aluminum foil for air conditioning, batter aluminum foil, single zero foil, household foil, and container aluminum foil materials. Various industrial/food/pharmaceutical packaging materials such as aluminum foil, the order capacity is 3-2000 tons, the product quality is stable, global export, and the price is affordable.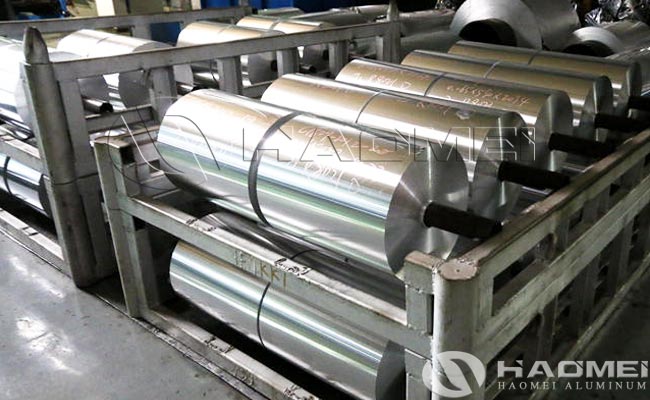 Commonly used alloys for aluminum foil are 1050, 1060, 1070, 1100, 1235, 1145, 8011, 3003, 8021, 3005, 8079 and so on. Aluminum foil can be used in food packaging, capacitor manufacturing, construction, decoration, printing and other fields because of its unique functions of moisture resistance, purity and conductivity. High-purity aluminium foil is generally used to make electrolytic capacitor aluminum foil, chemical utensils, and electrolytic tanks. Industrial pure aluminum foil is generally used to make power capacitor foils, cable coatings and civilian aluminum foils.
There are many types of aluminum foil, including container foil, household foil, composite foil. The aluminium foil roll price 8011-0 refers to the number 8011, the state is O state, 8011 is a series of aluminum alloy, belonging to the 8000 series of alloy aluminum, is added Al- Fe-Si element, more than 1% of the total alloying elements, its alloy properties have corresponding advantages. 8011 is often used to make aluminum foil, and its performance is better than pure aluminum foil. Mechanical properties: Tensile strength: 125~165, Yield strength: 110, Elongation: 2~5.