Specification of packaging pharmaceutical aluminum foil:
  Alloy: AA8011-O or AA8021-O
  Thickness: 0.02~0.075mm
  Width: 200-1700mm
  Application: It is used for packaging medicine tablets, capsules, pills, lozenges, small foods and candies.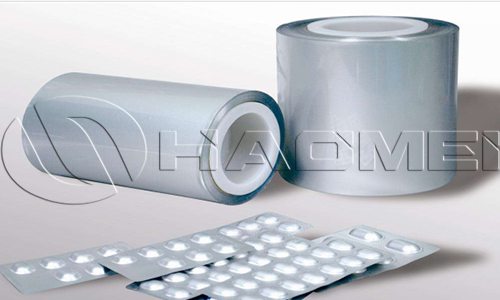 Packaging aluminum pharmaceutical foil is a product dedicated to the pharmaceutical industry. It is manufactured by sandwiching the aluminum foil between nylon (OPA) and PVC film using dry adhesive lamination technology. The laminate provides an almost complete barrier to water and oxygen, thereby allowing the product shelf life to be extended due to the greater thickness of the foil present in the laminate. The pharmaceutical packaging aluminum foil has the characteristics of oxygen resistance, moisture resistance, good sealing, easy to carry and use, and pollution prevention. The hard aluminum foil is used as the cover material, which is convenient for consumers to take out the medicine after breaking the aluminum foil. The non-peelable heat-seal coating is used to heat-seal with various plastic substrates.
  According to the printing form, the pharmaceutical aluminum foil falls on plain foil (no printing), printing foil (single-sided printing, double-sided printing, single-color printing, two-color printing, multi-color printing), color foil (single-sided gold, double-sided gold, green background, various color backgrounds ) and anti-counterfeiting (invisible text, pattern, front and back printing). Haomei supplies plain foil and a few printed foil rolls only.
  According to width requirements of the user's packaging machine models, the pharmaceutical packaging aluminum foil is divided into: 125mm, 130mm and 250mm. Haomei supplies a width range of 65mm to 500mm.