Transformer aluminium strip according to utility cent different brand, specification and status. Brands are: 1060, 1050, 1060 a, 1060, 1070, 1060 a, 1070, state: O state. O said soft state, behind can use Numbers to express the degree of hardness and softness, and degree of annealing. Thickness between 0.08 3.00, referred to as: dry type transformer with aluminium strip and foil.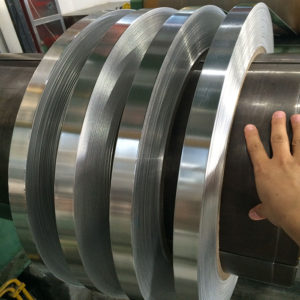 Dry type transformer with aluminium strip and foil is made of high quality pure aluminum as raw materials, with high conductivity, the characteristics of soft, smooth surface, no burr, is an ideal material, the production of dry type transformer is a key raw material, manufacturing of transformer winding on the conductivity of aluminium strip and foil, burr edge, side bend, surface quality and so on many technical indicators is very demanding.
Dry type transformer with aluminium strip and foil generally choose 1060 aluminum belt, the aluminum content of 99.6% or more, also known as pure aluminum, the aluminum plate with belong to a series of commonly used in the family. The advantage of this series aluminum plate: the most commonly used series, the production process is a single, compared with the mature technology, price relative to other high-grade aluminum alloy has a huge advantage. Have good elongation and tensile strength, can satisfy completely the requirements of conventional processing (stamping, stretch) high formability. For industrial pure aluminum, high plasticity, corrosion resistance, electrical conductivity and thermal conductivity, but strength is low, heat treatment can not be improved machinability is bad; Gas welding, hydrogen welding and resistance welding, is not easy to brazing; Under various pressure processing and extension, bending.
1060 o, transformer with aluminum has high aluminum content (usually 99.6% – more than 99.6%), and the conductivity of aluminum and thermal conductivity is lower than that of conventional metal copper, only metal conductivity in the order: silver copper gold aluminum nickel alloy steel. Because the copper price is much higher than aluminum, so the current transformer with the most commonly used material for aluminium strip. Transformer ribbon brand mainly A1060 (O), mainly used in high and low voltage winding of dry type transformer is used as conductive materials, aluminum with chemical composition in accordance with GB/T 3190-1996 "deformation of aluminium and aluminium alloy chemical composition" regulation, technical requirements and mechanical properties conform to TUN900 069 1998 edition of the coil with the finished product aluminum foil supply technical conditions. Transformer aluminum strip, aluminum is mainly used in large transformer, solar energy, electric power industry.
Application: dry type transformer with aluminum tape, aluminum foil
Material: 1060 – O
Thickness: 0.2 mm – 3.0 mm, width: 20 mm – 1650 mm.
Description: smooth surface, no scratches. Can do edge chamfer (round, round edge), burr, superior to national standards. The resistivity less than or equal to 0.028.
Packing: wooden pallets, inner diameter 300 mm or 300 mm.
Transformer aluminum belt is high purity aluminum as raw materials, aluminum content can reach more than 99.6%, other series aluminum with incomparable conductive performance.
Transformer aluminium strip application and use
Applied in can make the dry type transformer has small volume, light weight, good insulation performance, flame retardant, no pollution, little partial discharge, moisture proof, stable and reliable operation, low noise, low maintenance cost advantages, in the high-rise building, underground facilities, business center, residential, hotels and humid coastal areas and other applications.
The chemical composition of 1060 aluminium strip and foil
Chemical composition of 1060 aluminium plate:
Aluminum Al: 99.60, Si Si: 0.25, copper Cu: 0.05, magnesium Mg: 0.03, zinc zinc: 0.05, manganese Mn: 0.03, titanium Ti: 0.03, vanadium V: 0.05, iron Fe: 0.350, note: single: 0.03.