Aluminium strips for heat exchangers can be readily brazed and combine light weight and strength with good workability. The material's resistance to corrosion, its ability to conduct heat and the fact that it is easily recycled are also key strengths in this application.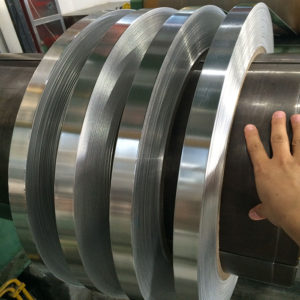 haomei aluminium manufactures and supplies aluminum finstock that meets the requirements of high quality heat transfer for automotive and housing applications.
Meeting the constantly evolving needs of users and customers is a priority for haomei aluminum strip. The company's investment in research and development seeks to optimize the performance of our foil products as well as our manufacturing processes.
Brazing strip is a composite, layered material consisting of a central core alloy that is clad on one or two sides with a lower melting-point alloy to facilitate brazing. One side may be clad with a protective liner to inhibit corrosion from aggressive coolants. The central core alloy can be engineered for high strength and resistance to corrosion from road salt and chemicals. Brazing is a joining method that forms a strong, uniform, leak-proof joint. Brazing strip is used extensively in the following automotive heat exchangers:
Aluminium Strip Coil for Heat Exchanger
Alloy: 1100, 1050, 1060, 3003, 3105, 5005
Temper: H14, H18, H22, H24, O
Thickness: 0.1mm-3.0mm, 0.2mm-6.0mm
Width: 20mm-2000mm, 7mm-200mm
Length: Coil Size
Coil I. D: 75/150/300/400/ 505mm/508mm
Coil O. D: Can be Customized by per Customer
Surface Treatment: Mill Finish
Function: Fire-proofing, Water-proofing, Heat-resistance, Anti-static, Mositure-proofing, Corrosion Resistance
Application: Heat Exchanger, Heat Sink
MOQ: 5MT per Size
Leadtime: 25-30 Days
Payment Terms: 30% by TT in advance as deposit and 70% balance by TT or L/C at sight.
Remark: SSpecific requirement of alloy, temper or specifications can be discussed in your request. If you have any requirement or question, be free to contact us by email.
Thank you for your attention!