There are two types of aluminium foil packaging. One type is to wrap food or objects with aluminium foil jumbo roll (or made into aluminium foil trays or containers), the other with aluminium foil bags.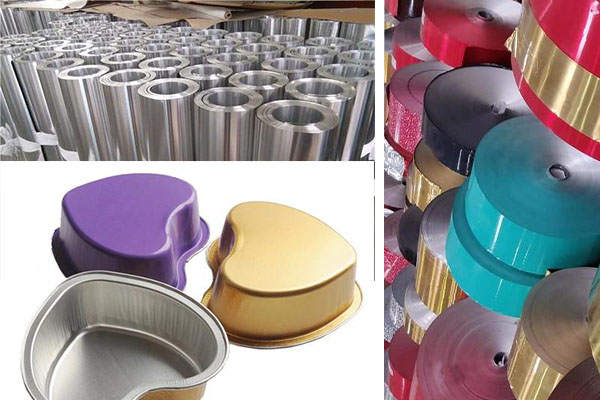 Aluminum foil paper is usually used for food packaging (such as aluminum foil paper tray). It is used to grill food like bean sprouts and sweet potatoes at a barbecue to avoid burning. Sometimes used for decoration. Modern aluminum foil paper is made of aluminum and can also be used as an aluminum electrode for electrolysis. There are also hair stylists who use perm foil to perm for guests. Some people also use aluminum foil to absorb the oil in the soup. Aluminum foil is also widely used for the barrier layer, heat exchange, and as an electrical conductor. Typically, aluminum foil used in paper bag beverage packaging and food packaging is only 6.5 microns thick. This thin aluminum layer is water resistant, savory, anti-bacterial and anti-fouling.
  The other type of aluminium foil packaging, aluminum foil bags, are used as tin foil bags, pure aluminum bags, just called different methods. Aluminum foil bags are suitable for a wide range of applications. Aluminum foil bags have strong barrier properties, anti-oxidation, water resistance, moisture resistance, strong mechanical properties, high blast resistance and puncture resistance. The characteristics of strong tearing performance are favored by electronic products and food packaging industry, and the development momentum has been particularly rapid in recent years.
  Core features: 1, good moisture, light and air barrier
  2, good heat sealing, long shelf life, sealed tight.
  3, beautifully printed, clear pattern, attract attention.
  4, dust-free production environment, 100% ketone-free benzene ink production, perfect quality control system is the continuous quality assurance for your authority.
  With either type of aluminium foil packaging, the quality of aluminium foil is very important. Haomei supplies aluminium foil jumbo roll, aluminium foil for containers, household aluminium foil and aluminium foil for packaging of medicine, food, cosmetics etc. Welcome to send inquiries!