Aluminum alloy is the most important metal materials in the 21th century, especially from 1891, when is applied in shipbuilding plate. Then, after 100 years R&D, it has been widely applied in shipbuilding, yachting and other fields. With the requirement of the lightweight demand, marine aluminum plate is very suitable for shipbuilding material for its low density, high strength, corrosion resistance and easy machinability. And at the same time, the demand has been increasing extremely; the ship processing has been the key product in aluminum industry.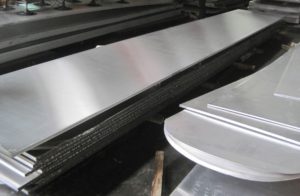 5000 Series Aluminium Alloys sheet
The highest strength non-treatable Aluminium Alloy
5000 series aluminium's are alloyed with magnesium. It is a readily weldable material used in a wide variety of applications including pressurised vessels, buildings and transport and automotive. Alloys containing greater than 3.0% magnesium content are not suitable for use in elevated temperature service as they are susceptible to stress corrosion cracking.
Characteristics
Alloys in the 5000 series range of aluminium possess good corrosion resistance in marine atmospheres and good welding characteristics too. However, as this range includes a high magnesium content there is the potential for stress corrosion to occur. In such cases, certain limitations should be placed on the alloys use in cold work and the safe operating temperatures permissible (over approximately 3.5% for operating temperatures above 150° C). Magnesium is a widely used alloying element in aluminium and is often the main alloying element and sometimes used in combination with manganese.
haomei Aluminum 5000 Series marine aluminum sheet products are mainly used for hull outer plate and other long-term contact with the sea parts of the plate. The main aluminum alloys includes 5083 aluminum alloy and 5086 aluminum alloy. Common status are divided into: H116 / H321 / O / H112. Specifications: thickness ≤ 30mm, width ≤ 2600mm, length ≤ 14000mm. haomei Aluminum 5 Series marine aluminum plate is in strict accordance with the marine aluminum plate production process: through the alloy inspection to determine the determination of casting optimization, homogenization of heat treatment and rolling processes and other processes, the quality of the technical testing department to ensure that all aspects of the user Demand, application prospects are extremely broad.