5052 aluminum alloy sheet is alumiium-magnesium alloy aluminum sheet, is widely used in daily life. 5052 aluminum alloy sheet with high strength, high hardness, corrosion resistance, and good welding performance. The biggest advantage of 5052 aluminium alloy is anti-fatigue strength.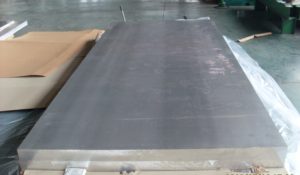 5052 aluminum alloy sheet is mainly composed of aluminum and magnesium, which is characterized by Mg content in 2.2-2.8. In the aspect of mechanical properties, the tensile strength is between 170 and 305MPa, and the elongation is 9-22%. The application scope is quite broad, and is suitable in the machine cabinet material, the transportation vehicle, the ship sheet metal part, the hardware product, the electrical appliance shell, the electronic product spare parts and so on.
The 5052 aluminium alloy sheet of Henan haomei has now become the products exempt from inspection of many customers. Products sale in Southern China, East China market, and exports to United State and UK, after a long-term strategic planning. We strived to obtain more international markets and our products are sold worldwide, such as Brazil, Chile, Mexico, Germany, Italy, Bulgaria, Czech, Saudi Arabia, UAE etc more than 40 countries.The company has established a good reputation in the market. Mature process, positive business contacts, high-quality after-sales service make many dealers and manufacturers more reliance on haomei aluminum.
At present, on the basis of the ordinary 5052 aluminum alloy sheet, haomei aluminum increases research and development efforts, and turns to the market of high-end oxidation of 5052 products. The product has been initially recognized by customers.