Haomei produce aluminium foil 50 micron with high quality, fast delivery, factory price, sincere service and high performance. The Haomei Aluminum has several advanced double zero aluminum foil production equipment, which has been recognized by the industry for its integrity, strength and product quality. The supplied double zero aluminium foil has been well received by the majority of demanding objects. It has high hardness, good load-bearing, and relatively good stamping effect. It is very safe and hygienic to use as a food packaging foil. Haomei Aluminum is a professional aluminum foil manufacturer. The product quality and performance are stable and reliable. There is no black wire, no bright line, no pinhole, There are many advantages, high quality and low price.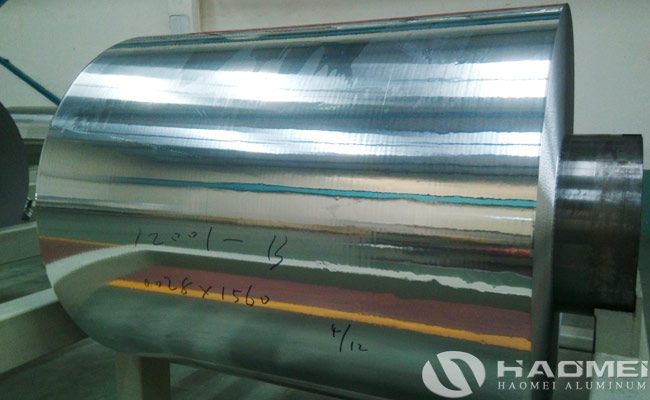 The aluminium foil 50 micron belongs to high-end double zero aluminum foil with a thickness of about 0.005mm has a broad market prospect, and more than 80% of the aluminium foil products will be exported to all parts of the world. The aluminium foil products are widely used in food packaging, cigarette packaging, medical packaging, aerospace, flexible packaging, radiators, lithium batteries, electrolytic capacitors, air conditioners, etc.
Aluminium foil can be produced with a small thickness of 0.0025 mm and a width of 1800 mm using the tape production method. Aluminum foil rolling is roll-free rolling, and the rolls are always in an elastic flattened state. The thickness of the aluminium foil 50 micron can be controlled by adjusting the rolling force, rolling speed and controlling tension during rolling. During rough rolling, the rolling force is used to control the thickness of the aluminium foil; during finishing rolling, the thickness of the aluminum foil decreases as the rolling speed increases; the greater the tension, the smaller the thickness; in order to prevent fragmentation, the tension is usually selected as 0.2 to 0.4 of conditional yield strengthσ0.2. In low-speed rolling, "thick oil" or "thin oil" is often added to the lubricant to adjust the rolling thickness of the aluminum foil. Lubricant and roll state have a very important influence on the quality of the foil. The aluminum foil blank comes from cold-rolled aluminum coil, which is generally pre-annealed at 340-480°C, and its thickness is 0.4-0.7 mm. The pass deformation rate during rolling is about 50%, and the total deformation rate can reach more than 95%. The finished aluminium foil whose thickness is less than 0.01~0.02mm should be rolled and double-sheet rolled.
For Price Plz Contact Whatsapp/Wechat: 0086 181 3788 9531
Or Email to nydia@aluminium24.eu