High corrosion resistance 3003 aluminium sheet is of 0.1mm to 500mm thick and up to 2650mm wide. It obtains a high erosion resistance by combining aluminium and manganese, both known for good anti-rust performances. Among all aluminium alloys, 3003 sheet rank medium in strength, corrosion resistance, plasticity and top in further processing properties, covering a wider range of application than 6xxx, 7xxx and 8xxx alloys.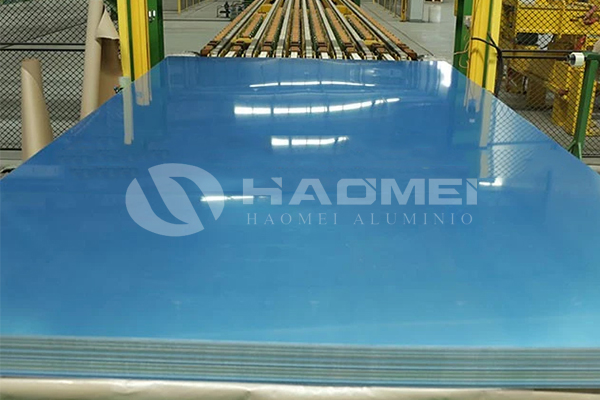 In spite of its excellent corrosion resistance, 3003 has a poorer hardness than most alloys, but this can be improved by cold hardening to a proper extent. Rust-proof aluminum 3003 is generally used in annealed or cold-work hardened state. Alloy 3003 aluminum properties include high plasticity, low strength, excellent corrosion resistance and welding performance. 3003 is easy to process and has good gloss and low temperature performance. It is suitable for manufacturing worked parts with little stress in corrosive environments.
  The most frequently applied high corrosion resistance 3003 aluminium sheets are of thin type. The sheets are flat, strong, shock proof and leak proof, proving to be a good material for power batter shells, packaging, refrigerator, air conditioner, cold storage, ventilation ducts etc. Haomei has super wide 3003 aluminum sheets for bus skin, silos, antenna pot materials, wide curtain wall panels and wide roof panels, hot rolled 3003 sheets for power battery shells, automobile heat shields, fuel tanks, water tanks, automobile anti-skid plates, battery explosion-proof valves, battery cover plates, automobile interior, signage, can bodies and medical equipment, and 3003 aluminium foil for honeycomb cores, electronic foil, meal box materials, container foil etc. If you need 3003 aluminium of any type, welcome to contact us!