1. Introduction of 1050 Aluminum plate
1050 aluminum plate belongs to pure aluminum sheet, and its chemical elements and properties are similar to 1060 aluminum plate, so sometimes, 1050 aluminum plate can be replaced by 1060 aluminum plate. 1050 aluminum platecontents 0.05% of Mg, 0.05% of Zn, 0.05% of Mn, 0.03% of Ti, 0.05% of V, 0.4% of Fe, 0.03% of others each, and the balance is aluminum. According to international rules, the aluminum content of 1050 aluminum plate must reach to 99.5%, For its simple processing technology, 1050 aluminum plate is much cheaper comparing to other aluminum alloys plate and it is very commonly used in industry.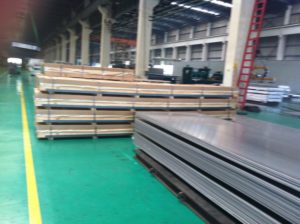 2. Properties and Features of 1050 Aluminum plate
As a kind of aluminum pure plate, 1050 aluminum plate has low density, good conductivity and thermal conductivity, good plasticity and excellent resistance to correction, thus, 1050 aluminum alloy can be processed into aluminum sheet, aluminum strip as well as aluminum foil. haomei can manufacture all these three kinds of products. 1050 aluminum plate is non-heat treatable, and its strength is strengthened by cold working, and the only heat treatment is annealing. Adding Fe and Si can improve the strength, but it can reduce the plasticity, conductivity as well as resistance to correction. 1050 aluminum plate of haomei aluminium can live up to international standards, so the quality is pretty good with 18 years experience in aluminum deep processing.
3. Applications of 1050 Aluminum plate
The annealing of 1050 aluminum plate includes three kinds: totally annealing, fast annealing as well as quenching and aging. For its characteristics above, 1050 aluminum plate has a vast application, such as daily goods, lighting applicant, reflective board, decoration, vessels for chemical industry, heat sinks, signs, electronics, lamps, deep draw structures and so on and so forth. All these are demanding excellent resistance to correction and formability, but low strength. So we can get to know the chemical equipments are typical applications of 1050 aluminum plate . haomei aluminum has been engaged in aluminum deep processing for decades, so mature technology, strict quality control can be realized here. Besides, advanced equipment and mature delivery system guarantee short leading time. Thus, the efficiency can be improved.