The metal material can form the oxidization film by soaping in the electrolyte solution, and it is called the surface anodizing. You many wonder why the aluminum sheet shall have be carried out with this, and what is the advantage of it, in the following paragraph, we will introduce it for you!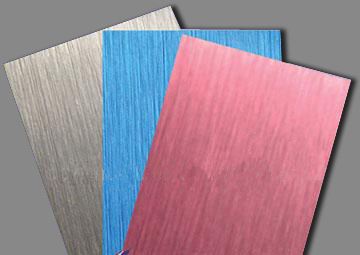 After the metal material is processed, the performance of the anti-corrosion, hardness, and electricity insulation has been greatly improved, and the aluminum is metal material that can be fully anodized, the anodizing of the aluminum sheet is usually conducted in the acid electrolyte solution, and the aluminum is the positive electrode. During the process of the electrolysis, the anion of the oxygen can work with the exothecium and form the oxidization film. When the speed of forming the oxidation on the aluminum surface keep balance with the dissolution speed of the chemistry, the oxidization film can reach the maximum of under the electrolysis parameter. There are many holes on the outside surface of the anodizing film, and it is easy to adsorb the fuel and  the colored matter, so it can be dyed and used for decoration. When the oxidization film is processed with the hot water, steam and nickel salt, and it can also further improve the corrosion resistance and abrasion resistance.
The Haomei Industrial Co., Ltd provides high quality aluminum sheet and it also supply the anodized aluminum sheet, it has 30 years'experience in the aluminum sheet field, and it not only has the good quality product but also the good services, and the goods have been send all over the world, gaining a wide appraises!