Aluminum alloy strip 1050 1060 1070 3003 3004 8011 can be divided into many series according to different materials and application. Today, we will summarize the common materials for aluminum strips, so users can choose the right aluminum strip products.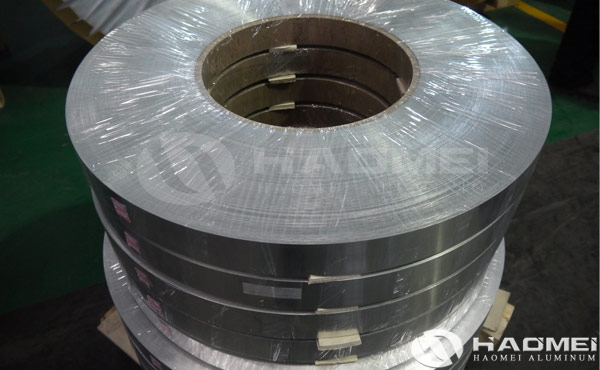 1, Pure aluminum series of aluminum alloy strip material
The advantage of pure aluminum strip coil is that it has good thermal conductivity, electrical conductivity and good ductility, and is often used in transformers, cable, metal stamping, lamp shades, radiator fins, etc. In the semi-hard temper of H24, the pure aluminum strip has good bending and punching properties, and has good tensile properties under O full soft temper, and is suitable for processing of stretched molded parts such as lamp shades. The price of pure aluminum strip is also the lowest among the aluminum strips, the cost performance is relatively high. The representative of the pure aluminum tape is the 1060 aluminum strips, 1060 aluminum strips are usually applied in dry type transformer winding, and the temper is O, the strength of the pure aluminum strip is not as good as that of the alloy series, so it is not suitable for products with high strength requirements.
2, Aluminum-manganese alloy series of aluminum alloy strip material
Representative product 3003 aluminum strip and 3004 aluminium strips, aluminum-manganese aluminum alloy strip has certain strength and rust and corrosion resistance, so it is suitable for the processing of hardware products with certain requirements on strength, the price is slightly higher than pure aluminum strips. The 3003 and 3004 aluminium strips can be applied in shutter and lamp base processing.
3, 8000 series aluminum alloy strip
Representative product is 8011 aluminum strip, aluminum strips alloy 8011 is applied in water tank radiator in automobile, aluminum tube for kitchen ventilator, air duct products and cable wrapping materials.
For Price Plz Contact Wechat: 0086 181 3788 9531
Or Email to nydia@aluminium24.eu
Reprinted from:http://www.aluminum-strip.com/news/aluminum-alloy-strip.html