Aluminum diamond plate for sale has advantages of beautiful visual appearance, high quality, easy to clean, maintenance-free, anti-strike, anti-pressure, anti-scratch and no fingerprints. Haomei supply diamond aluminum plate with grade of 106 and 3003, which has thickness of 0.8-10mm, the width is 1000-1220mm, and the package of aluminium diamond plate can be plate type and coil type. According to scientific tests, transmission efficiency, scratch resistance, and compression resistance of aluminum diamond plate are better than ordinary aluminum plate, which can reduce friction by 30%-70%, significantly increase anti-slid surface efficiency, and correspondingly reduce surface wear, it can also extend the service life.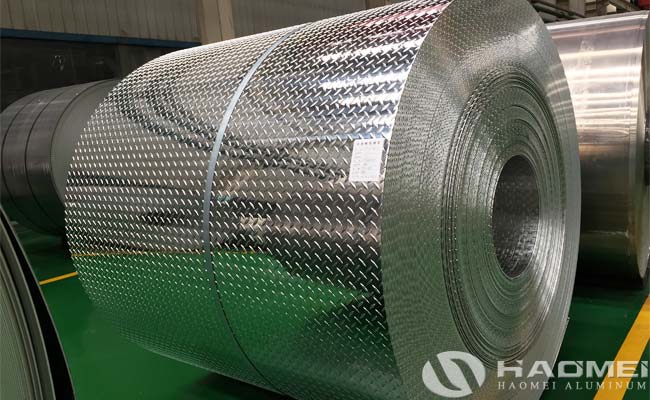 The aluminum diamond plate for sale has 3 significant advantages on performance:
1, The decorative beauty
Compared with ordinary aluminum plate, the appearance of the pattern gives a novel architectural aesthetic effect. Because of the diamond pattern on the surface, the aluminum diamond plate can be used as decoration, so the diamond plate are widely used in life.
2, The saving
The compressive strength of the aluminum diamond plate is higher than that of other aluminum plate because of the pattern technology. It is economical and affordable. The surface of aluminum diamond plate is treated by embossing, so it is hardly to leave fingerprints after touched by humans, which reduces the frequency of cleaning the exterior of the elevator car, escalator door panel, and curtain wall built with diamond aluminum plate.
3, The anti-slip effect
Everyone knows that the uneven aluminum diamond plate for sale can be anti-slip, mainly due to friction. The anti-slip of the aluminum diamond plate is 40% to 60% higher than that of the plain aluminum plate, so the diamond aluminum plate is also used in the photo-engraving machine, food vertical packaging machine, pharmaceutical tobacco molding machinery and equipment.
For Price Plz Contact Whatsapp/Wechat: 0086 181 3788 9531
Or Email to nydia@aluminium24.eu