It is one of the representatives of aluminum foil with air-conditioning heat exchanger.
Air conditioning is gradually to the miniaturization, high efficiency, high life direction.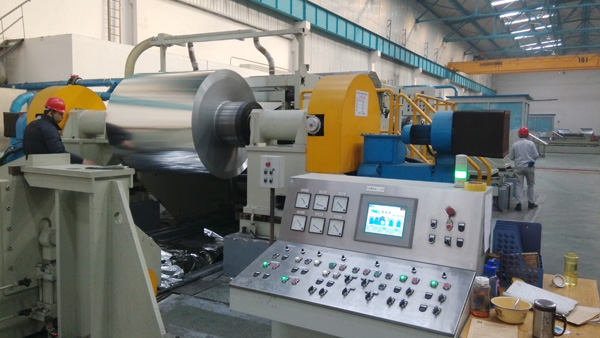 The current aluminum foil used in air conditioning  can be divided into non-coated aluminum foil, coated aluminum foil, corrosion-resistant aluminum foil, hydrophilic aluminum foil, hydrophobic aluminum foil, self-lubricating aluminum foil, The amount of aluminum foil used in air conditioning varies according to the size of the model and the power, and the thinner aluminum foil can reduce the amount of aluminum used in the same heat transfer area and reduce the cost of air conditioning radiator. Therefore, "reduce the thickness of aluminum foil", was the development trend of aluminum foil products and winning magic weapon. With the development of air conditioning industry, air conditioning with aluminum foil thickness thinning trend is particularly evident.
Air conditioning demand is increasing, air conditioning market is growing.
in recent years, China's
aluminum foil used in air conditioning production capacity and technological level continues to improve, has been formed medium and small, high and low production of air-conditioning foil business groups, air conditioning foil specifications and alloy relatively single, suitable for large Scale production.
HAOMEI air conditioning aluminum foil to have a good formability, its organization and performance must be uniform, less metallurgical defects, anisotropy is small, while requiring high strength, good ductility, uniform thickness, flatness is good.To meet the requirements of improve the life of air conditioning, reduce power consumption, improve ventilation quality and improve the cooling effect, the processing and production of air conditioning aluminum foil put forward higher requirements. Looking forward to have a further cooperation.
Aluminum foil used in air conditioner foil/ aluminum foil stock
Alloy: 1100, 8011, 3102
Temper: H18, H22, H24, H26
Thickness: 0.08mm–0.2mm
Width: 200mm–1600mm
Leadtime: About 15 days
Packing: Wooden case
Payment: T/T or L/C at sight
MOQ: 3 tons per size
Top quality, factory price!
ISO9001: 2000, CE Certification