The aluminum packaging for pharmaceutical industry is mainly processed by aluminum foil 8011 and 8021 with thickness of 0.02-0.75mm. The temper of pharmaceutical grade aluminum foil are O and H18. The pharmaceutical packaging aluminum foil thickness generally used is 0.02 and 0.022 mm, and the thicker thickness are generally 0.04-0.75mm. When used as composite lamination, the base aluminium foil thickness is 0.006-0.02mm, after coating, laminating, and printing, the finished pharmaceutical packaging products are manufactured.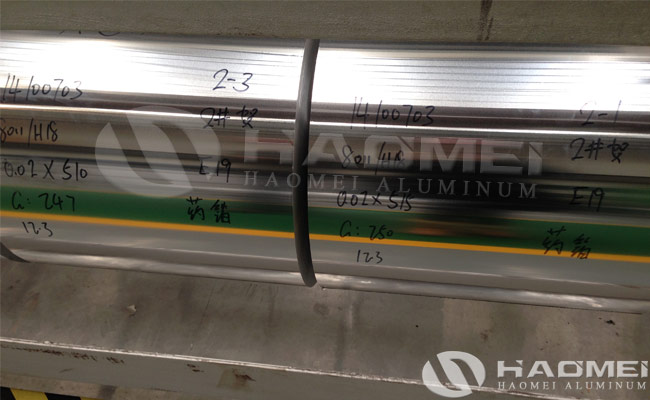 When use in pharmaceutical packaging industry, the aluminum foil has many features, the strength is good, the airtightness is good, the aluminum foil can block the light and sanitation. When compared with other medical packaging material, foil aluminum packaging for pharmaceutical and other raw materials are more excellent than moisture resistance, and aluminum foil has good thermal insulation performance, the most important thing is that aluminum is non-toxic and non-adsorbent, it can minimize bacterial growth.
Aluminum foil for pharmaceutic packaging is mainly used for the packaging of liquid medicine and injection. Aluminum foil for medicine packaging has the advantages of moisture resistance, safety and hygiene, and portability, and is widely used in the international pharmaceutical industry. The main functions of pharmaceutical packaging are protection of drugs (prevention of quality changes); Ease of use; Provide information on drug characteristics and usage matters.
Main features of aluminum packaging for pharmaceutical industry are:
1, Aluminum foil has certain strength and ductility, wear resistance, and can protect the packaged objects most effectively.
2, Aluminum foil has good moisture resistance, gas barrier, shading, isolation, shielding and taste retention properties.
3, Medicinal aluminum foil has good printing performance, and can be printed with various colors on the light and dark sides of the aluminum foil or pattern.
For Price Plz Contact Whatsapp/Wechat: 0086 181 3788 9531
Or Email to nydia@aluminium24.eu