Aluminum foil thermal insulation can be used to multiple places where it can be found useful for stopping unwanted heat gain or heat loss. Aluminum foil insulation works effectively and efficiently and prevents the transmission of temperature that at the end results into wastage of energy.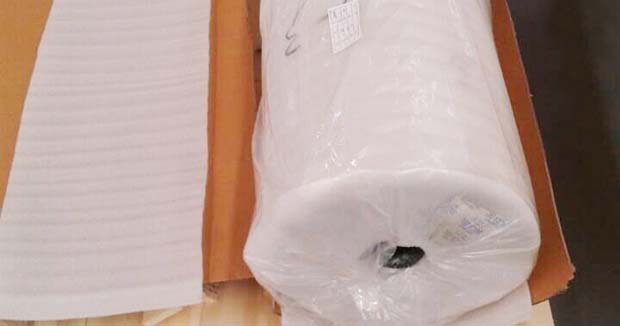 Not your typical aluminum foil, our aluminum foil insulation is comprised of two layers of highly reflective aluminum reinforced with polyethylene woven fabric that gives the aluminum insulation an incredible tear resistance factor making it more durable that most radiant barriers in the market place.
Why aluminum foil insulation?
The barrier properties and heat reflectivity of aluminium foil are widely used in building panels to improve insulation performance in modern building systems.
Aluminum thermal insulation is work on the radiant barrier principal that reflects the temperature and sun rays back to atmosphere from where they are coming from. And it works in both hot and cold environment by reflecting high temperature rays to the direction of source. The same can enhanced with the use of polyethylene bubble insulation film that sandwiched between the aluminum foil. Though aluminum insulation reflects around 97 percentage of sun rays and radiant heat, remaining can be stop passing to home by air bubble film. And this is why most of the radiant barriers are the best choice for home and industrial temperature insulation.
Aluminium foil is used as a skin for heat-insulating and incombustible materials to provide high performance insulation for pipe work and ducting.
The adhesive tape used to secure the laminated material is based on aluminium foil or its reflective surface, corrosion-resistance and long life.
In electrical cables, aluminium foil helps give long-term insulation against moisture and attack from naturally occurring corrosive elements found above and below ground.
Aluminium foil also acts as an insulator against the magnetic and radio frequency emissions associated with electrical cables.
As a sheath for fiber-optic cables, aluminium foil uses its electrical conductivity to act as a "tracer" to enable testing of the integrity of cable links – as well as helping to provide the long-term protection every cable needs.
In fire walls for vehicles and fireproof doors and building panels, aluminium foil stops access to the oxygen required to support flames.
This aluminum roof insulation is used to provide protection against the higher cold also as it reduces the temperature loss to outers surface of the home roof or wall. Particularly for the building that are made with higher amount of glass or steel. Whatever needs to be of keeping the close room at a constant temperature, it can be benefited with the use of radiant aluminum foil.
Studies have shown that radiant heat transmission is responsible for the highest amount of heat gain or loss in the building structure. During the hard summer, the ceiling or roof and wall of the building absorb radiation from the sun rays and transmit it inside the home. The same heat is then transmitter towards the attic room. However, most of the sun rays and heat is transmitted outside when radiant aluminum foil insulation is used. Also during the colder period the same thermal barrier stops the wastage of energy by reflecting cooler temperature towards the interior of the building. A properly installed aluminum thermal barrier stops 97 percentage of the heat transfer and saves money and energy both.