Thinner aluminum sheet plate is aluminum foil .When aluminum alloy is passed between rolls under pressure, it becomes thinner and longer in the direction in which it is moving. This simple process is the basis for producing aluminum plate, aluminum sheet and aluminum foil.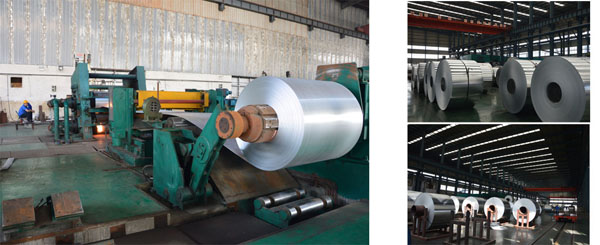 The production of sheet or  aluminum foil usually starts out the same way as plate but the slab is further rolled through a continuous mill to reduce thickness and wound into a coil at the end of the line. These coils are subsequently cold rolled, from one to several passes at cold rolling mills. Coils may be heated in a furnace to soften it for further cold rolling or produce the desired mechanical properties. Cold rolling is the last step for some sheet, but other types (referred to as heat-treatable) are subjected to further elevated-temperature processing to increase their strength.
Some aluminum  sheet and foil products may also be produced using the continuous casting process in which molten metal enters the caster, which produces a hot rolled coil, thus bypassing the ingot casting and hot rolling steps.
aluminum sheet plate and aluminum foil are most widely used form of industrial aluminum, is used in applications including aerospace (the skins of planes), transportation (auto body sheet), packaging (can bodies and ends) and construction
Aluminum foil renowned for even heat distribution and durability,so many recipes specifically recommend the use of household aluminum foil food packing.