Sometimes you need something a little stronger than standard aluminum foil. That's where heavy duty aluminum foil comes in. Our heavy duty foil offering is ideal for tough jobs like:
lining pans for use in the oven
freezing meals ahead or storing leftovers
making foil packets to lock in moisture and flavor when you grill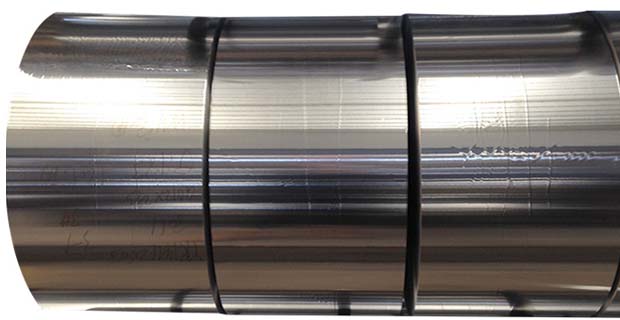 Where this really matters is when you're using aluminum foil for cooking. Since regular aluminum foil is thinner than the heavy-duty version, it doesn't stand up to high heat and weighty items as well.
Heavy duty aluminum foil offers perfect protection against both high heat and freezing cold. Heavy Duty Foil is also available in a wider 18 inch roll, making it perfect for covering or lining larger roasting pans or making or folding larger foil packets.
Aluminum foil rolls and sheets come in a variety of thicknesses, widths, and lengths. Manufacturers often make the width and length of the foil roll easy to find, but the thickness of the foil is often not advertised. Most manufacturers use terms like standard duty, heavy duty, and extra heavy duty to describe foil thickness. Finding the actual thickness from a foil box or manufacturers website is not likely.
This type of heavy duty foil is thicker and sturdier than regular aluminum foil. It's tough enough to stand up to high heat, heavy food items, and long-term storage in the freezer. Because of the extra thickness, it's also a better choice for campfire packets.
Regular /Standard Duty and extra heavy duty aluminum foil are made of the same material, but there's a key difference: the thickness of the foil.
Standard Duty Aluminum Foil – Most standard duty aluminum foil rolls are economical aluminum foil rolls for commercial and home aluminum foil sheets use. Home use standard duty foil rolls are often between 75 ft. and 250 ft. long, offered in a variety of widths. The majority of foil rolls labeled as "Standard Duty" are between .0004 thick and .0007 thick. Which at best is slightly over or one half of a mil in thickness.
Thickness of Aluminum Foil
Heavy Duty Aluminum Foil – By far the most common aluminum foil used for home and commercial use. Most home users buy 75 ft. rolls of Reynolds aluminum foil or a comparable brand for home use. Heavy duty foil provides extra strength and tear resistance. Many cooks use it for baking, grilling, and storage. Most Aluminum foil rolls labeled "Heavy Duty" are between .0008 thick and .001 thick. The extra three thousandths of an inch makes a big difference for a variety of applications.
In a word,This extra-heavy duty aluminum foil comes in a box with a standard cutting edge. It is good for use in cooking, serving and freezing food. Lining pans with roll before cooking makes cleanup easy. Use for grilling to lock in flavor and for freezing to prevent freezer burn. Material(s): Aluminum; Length: 500 ft; Width: 18 in; Packing Type: Box.