Haomei manufacturing high quality coating aluminium coil 3003 3004 H24 0.18-1.5mm with excellent decoration. Qualified color coated aluminum coil must have no significant indentation, missing coating, or penetrating coating damage on their surface, and ripples, scratches, and blisters are not allowed. At the same time, the weather resistance of qualified coated aluminium coil is also very good, so how does its weather resistance come from?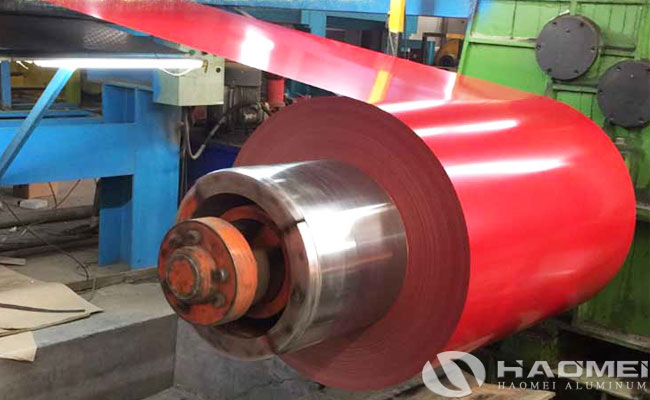 Color coated aluminum coil refers to the product after coating and coloring the surface of the aluminum coil or aluminum sheet. Common color coated aluminum coil include fluorocarbon color coated aluminum coil (PVDF) and polyester color coated aluminum coil (PE). Polyester resin of polyester color coated aluminum coil (PE) is a polymer containing ester bond in the main chain as a monomer, and alkyd resin is added. According to the gloss, PE coating aluminium coil can be divided into matt and high gloss series. It can make the product have good gloss and smoothness, as well as good texture and feel, making the product more layered and three-dimensional. At the same time, the coating of polyester color coated aluminum coil can adapt to outdoor ultraviolet radiation, wind and rain and other attacks, durable.
With the mature development of color coated aluminum coil products, coating aluminium coil are widely used in the coating of indoor and outdoor aluminum materials in high-end buildings. It is also common in indoor and outdoor decoration in some public places and in the manufacture of home furnishing for building decoration. It is especially suitable for the decoration and display of indoor and outdoor decoration in public places, commercial chains, exhibition advertisements, etc.
For Price Plz Contact Whatsapp/Wechat: 0086 181 3788 9531
Or Email to nydia@aluminium24.eu