Haomei Aluminum is a large-scale enterprise specializing in the production of pre painted aluminium sheet 3003, 3004 and 3105. We undertake a large number of color coated aluminum coil of 0.17-1.5mm thick and 500-1270mm wide. There are 3 color-coated production lines in Haomei Aluminum, the color-coated printing, split strips, tile pressing, can be processed in our factory. Color-coated coils are made of plain aluminum sheet as the substrate, and after surface pretreatment (chemical degreasing and chemical conversion treatment), a layer of or several layers of organic coatings, followed by baking and curing products. It is also named because of the color coated aluminum coil with various organic coatings of different colors, referred to as color coated coil.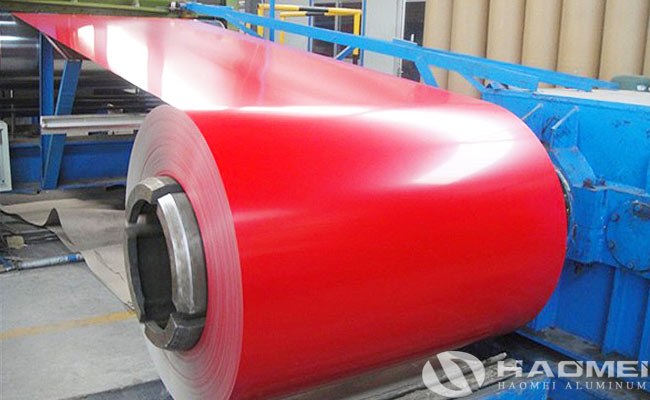 Color-coated aluminum sheet rolls have light weight, beautiful appearance and good corrosion resistance, and can be directly processed. The colors are generally divided into gray, sea blue and brick red. The pre painted aluminium sheet are mainly used in advertising, construction, home appliances, electrical appliances, furniture, and transportation. industry. The finished color coated aluminum coil has bright colors and smooth surface; the paint has strong adhesion, good anti-corrosion performance and good formability. The prepainted aluminum is suitable for steel structure, color tile, wall and other industries.
The paint used for pre painted aluminium sheet should be selected from the appropriate material, such as PE and PVDF, according to the use environment. The user can choose according to the purpose. Haomei Aluminum has advanced production equipment, fully adopts German Siemens automation control system, and introduces American Fata production technology and technology, which can produce painted and color coated aluminum coils with a thickness of 0.15-1.22mm and a width of 600-1250mm.
For Price Plz Contact Whatsapp/Wechat: 0086 181 3788 9531
Or Email to nydia@aluminium24.eu